Upon creation, CASD started studying various ways to grant access to its central IT infrastructure. After visiting foreign access centers providing similar services in Europe, a list of requirements and constraints for the access was established:
High security level required
Easy installation for a user
Low impact on user IT environment
Automated maintenance
Low dependency on local IT infrastructure
Software solutions were quickly discarded, as they were deemed unsafe and invasive with high cost and heavy installation requirements. Having only a few units equipped with biometric card readers and adding such peripheral computer equipment could have become a nightmare. Software resting on system components, hardware managed by different staff, and the maintenance and assistance for the system would have rapidly become very problematic.
CASD chose to develop an integrated solution: SD-Box.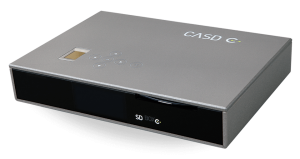 The SD-Box is an autonomous terminal designed by CASD which very simply consists of a single unit with all elements necessary for the services it must provide enclosed. Its on-site installation is fairly simple. To be operational, this central unit requires: an Internet connection, electricity, a screen, a keyboard, and a mouse. It is completely independent from the user's local work environment and may be shared by more than one authorized user.
Once plugged in and configured, the box maintains a permanent link with the CASD central infrastructure to enable the interaction between the user, their project server, and the management system of the Box (i.e. maintenance, security and updates).
To open a session on their project server, the user must simply verify that the device is online, insert the card (provided at an enrolment session) and, finally, place their finger on the biometric reader on the Box.