CASD is part of the International Data Access Network (IDAN) project, founded in 2018. The project is a collaboration between 6 Research Data Centres (RDCs) from France, Germany, The Netherlands and the United Kingdom to facilitate research use of controlled access data between these RDCs/countries.
In its first phase IDAN aims to enable researchers to work remotely on secure access data provided by partner countries from within each Research Data Centre with all access points in the same physical place (RDC/ Safe Room). For more information on the project's progress and availability of access points and data, please see the project website.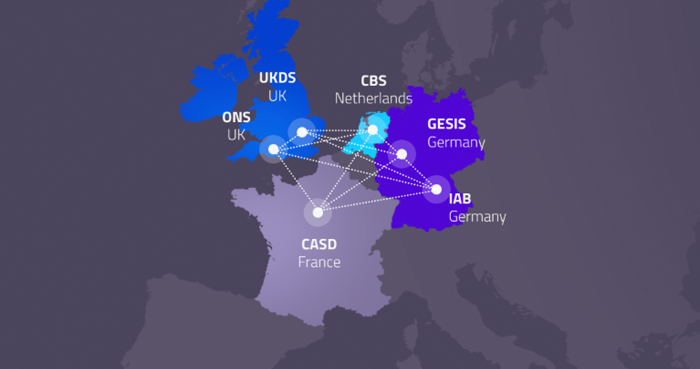 Partnership CASD-IAB
Access to the data of the Institute for Employment Research (IAB) available via its secure Research Data Centre, FDZ
Following the signing of the agreement between CASD and IAB, access points were set up in their respective institutions in Palaiseau and Nuremberg in order to facilitate partnerships and comparative work using French and German data sources.
The access point recently installed at CASD in Palaiseau is today the only point of access in France for consulting German data on the topics of social security and employment at the same level of detail as the access via the IAB website.
At the same time, it is possible for German researchers wishing to work on French data covered by statistical confidentiality to access it directly via the CASD SD-Box at the IAB in Nuremberg.
To facilitate your research, a summary table mentioning possible comparisons of IAB and CASD data sources is now available on our website.
Whether or not you are a CASD user, you can now request access to IAB data to work from CASD. You will find all information regarding the data available on IAB's website. The application for authorization is made by the German Federal Employment Agency. The data access conditions and the authorization procedure are described in the "on-site use" section of IAB's website.
Working on the Data from CASD Headquarters
---
The cost of the access point is funded by CASD under the cooperation agreement with IAB, so access to German data is free. Please note that access to German data is not via the CASD SD-Box but via the equipment provided by IAB and installed for this purpose in our premises.
Step 1 : Making an appointment to work on German data.
Once all formalities have been completed, you can make an appointment with CASD to book working hours in its premises:
---
Location :
Groupe des Ecoles Nationales d'Economie et Statistique (GENES)
Centre d'Accès Sécurisé aux Données (CASD)
5, avenue Le Chatelier
91120 Palaiseau, France
Contact : Marine Seilles
Telephone : +33 1 70 26 69 33 / Email : service@casd.eu
Hours of Operation: Monday-Friday, 9.00a-12.00p & 1.00p-5.00p, by reservation only via service@casd.eu.
Please let us know as soon as possible if an appointment cannot be kept.
---
Step 2 : Preparing for your first visit.
Before your first visit, you must read the instructions in the following guide: Guidelines for On-Site Use and Remote Date Access.
Important Information:
In the room reserved for IAB data access, we remind you that it is strictly prohibited to:
use laptops, storage devices, or image recording devices (eg camera, mobile phone)
communicate via phone, email or text
take notes
Detailed German data is only available on the CASD premises. It is possible to make changes to your work from your via the JoSua application. To optimize your visit time and make access to your files possible at CASD, your files must be sent via JoSua 3 business days before your visit.
Contact Procedures
---
For additional information or any questions about IAB data access, please contac IAB at the following address: iab.fdz@iab.de ;
For any questions about the access point located at CASD, do not hesitate to contact us at: service@casd.eu.