CASD is member of the project IDAN – International Data Access Network). The Network is a collaboration between 6 Research Data Centers (RDCs) from Germany, France, the Netherlands and the United Kingdom in order to facilitate controlled data access for research purposes.
The purpose of this Network is to allow researchers to work remotely on one of the Partner's data from any site of these RDCs. Access points of all partners are being progressively implemented at each site in a dedicated room (safe room) that meets the required security standards.
More information on the project is available on the IDAN website.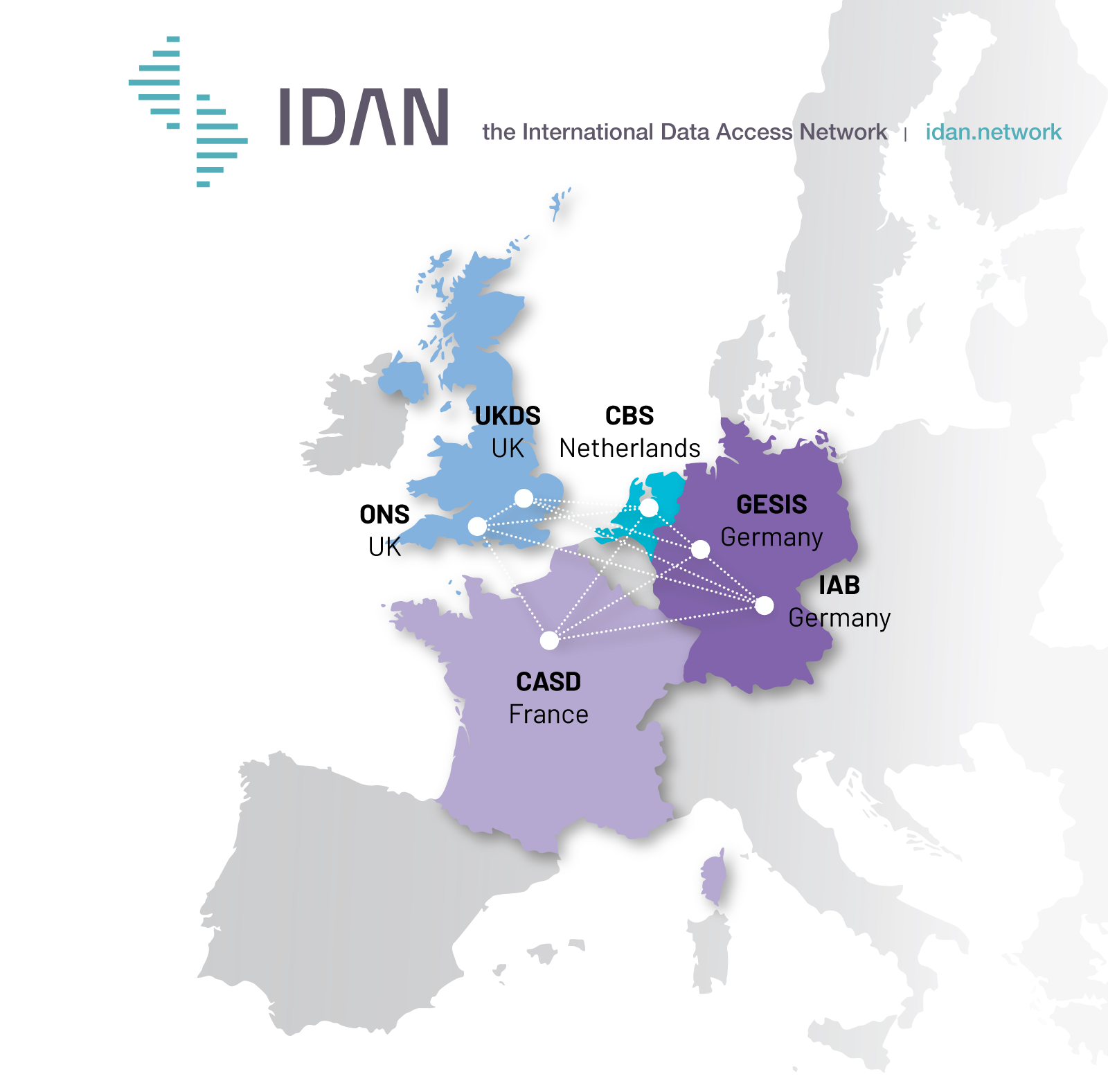 Access to partner's data from CASD
CASD has set up a safe Room at his premises in Malakoff. Three access points are currently installed in this room. They are:
For IAB data in Germany
For CBS Data in the Netherlands
A SD-Box for accessing CASD data, exclusively for projects using data from different partners of IDAN network
Whether you are a CASD user or not, you can ask to access IAB and CBS data following the necessary procedures from being certified by these centers to booking the room in Malakoff by contacting CASD.
CASD is in charge of the cost of the access points according to the terms of the agreement with IAB and CBS (each data access cost depends on the center). You should note that the access is not through the CASD SD-Box but through equipment provided by IAB and CBS and installed for this purpose in our premises.
Access procedure and available Data
Additional conditions to the IAB access point
Before your first visit, you must imperatively have read the indications described in the following instructions guide: Guidelines for On-Site Use and Remote Date Access.
When using the safe room, it is strictly forbidden:
To use laptops, stocking or image recording devices (ex: camera, mobile phone…)
To communicate via telephone, email or SMS
To take notes
The German detailed data can be consulted at CASD premises; however, it is possible to modify your work from your place of work via the application JoSua. In order to optimize your time of visit, your files should be imperatively sent via JoSua 3 working days before your visit so you can have access once you arrive on site.
In order to facilitate your research, a table that summarizes potential comparisons of German and French data is available.
How to book an access point in the CASD safe room
Access to the safe Room is only on reservation. Contact us at service@casd.eu and indicate the access point(s) you wish to access as well as the dates on which you wish to access it.
Address:
Centre d'Accès Sécurisé aux Données (CASD)
76 Avenue Pierre Brossolette
92240 Malakoff, France
Contact : Data Management Service
Phone: +33 1 70 26 69 33 / Email : service@casd.eu
Access hours: Monday to Friday 9 am – 6 pm
If you cannot respect the appointment, please inform us as soon as possible.
Access to CASD through the partners' centers
SD-box allowing access to CASD data are installed on 4 partners' sites. The installation of SD-box on these sites facilitates leading project of researchers using several partners' data including that of CASD.
It also facilitates teamwork between researchers residing in different countries without being forced to move.
You can find below a list of the partners' sites, the different booking procedures as well as the access point deployed on these sites:
Data comparison between partners: CASD-IAB collaboration
In order to facilitate access to confidential data from one country to another, the CASD and IAB are working closely together.
As part of this collaboration, both institutions have produced a report (DOI: 10.5164/IAB.FDZD.2003.en.v1) assessing the comparability of labor market data they provide access to and detailing a comparison between two administrative data sources: the German "Sample of Integrated Labor Market Biographies" (SIAB) and the French "Panel tous salariés" (All Employee Panel).
In addition, and following the recent implementation of an access point to French confidential data at ICPRS at the University of Michigan where access to IAB data is already available since 2011, the CASD, IAB and the ICPSR organized a joint webinar on 29 January 2020. Both institutions presented all available data and how researchers can access it, as well as the opportunities for cross-country research between the two countries. The full webinar in available on this link.