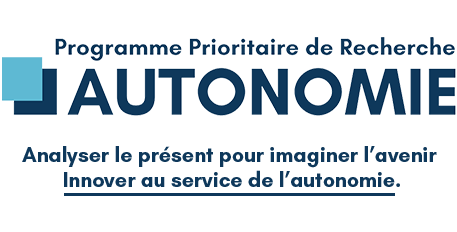 The Priority Research Program (PPR) Autonomy (ageing and disability) led by the CNRS and directed by Claude Martin (Sociologist and Director of Research at the CNRS) is part of the 3rd Plan for Future Investment (PIA3). With a budget of €30,000,000, it aims to continue efforts to develop and structure French research in the field of autonomy.
Among the major projects are those constituted around the issues of management and sharing of research data, as well as the reuse of data for research purposes.
The research projects funded under this call will have a duration of 3 to 5 years. The amount of support requested will be between 1 and 3.5 million euros per project.
A first call addressing Challenge 1 (design and use of the concept of autonomy) and Challenge 2 (public policies for autonomy) was launched in the summer of 2021, with the four winning projects announced in spring 2022.
This call covers challenge 3 (life situations and experiences of empowerment and reduction of autonomy) and challenge 4 (design, reception, and uses of innovative devices and experiments).
Submission of applications before March 17, 2023 at 11:00 am (Paris time)
More information : https://anr.fr/fr/france-2030/france2030/call/autonomie-vieillissement-et-situations-de-handicap-appel-a-projets-vague-2/
In order to assist those who would like to respond to this call for projects, the PPR Autonomie project team, in partnership with the Humathèque Condorcet and the CNRS Condorcet Support and Research Unit (UAR 2028), is offering a webinar dedicated to the possibilities of funding expenses related to research data management issues in the context of projects.
Claudia Marquet (project manager, PPR Autonomie), Cynthia Pedroja (head of the project support and open science department, Humathèque Condorcet) and Camille Oloa-Biloa (director of the UAR Condorcet) will discuss the appropriateness of mobilizing the financial resources of the call for projects to set up an ambitious research data management approach.
The webinar will take place on February 16, 2023 from 1:00 to 2:30 p.m.
(Registration required)
Information & registration : https://www.linkedin.com/feed/update/urn:li:activity:7018884568942264321/